About Soft Hearted Scientists
as told by Nathan Hall
Dylan and I met when were both at quite a low ebb in our lives; at a loose end; searching for something, yet somehow not quite vulnerable enough to fall for Scientology, Tolkien DVD boxsets or Zumba. Instead we somehow both fell in with a travelling mime troupe specialising in medieval pageants as it passed first through Dylan's rural Shropshire village, then, two weeks later, Cardiff. After two weeks of incredible dedication to the silent arts, we got to chatting and experienced a mortifying moment of self-awareness, followed by 6 weeks of ever more eye rolling and sniggering to ourselves. Much to the consternation of the rest of the troupe, we eventually realised that theatrically pouring invisible jugs of mead into invisible goblets, and gurning moronically like medieval Mr Tumbles was a foolish and pointless enterprise, and escaped through an invisible portcullis of our own making into a brave new world of psychedelic music making.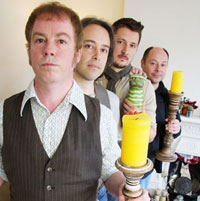 We hammered out an equally heroic and pompous manifesto by moonlight, and started making 4-track cassette demos in my house back in 2001, before eventually upgrading to a free copy of Cubasis in 2003. We have always been utterly cutting edge and masters of technology, sparing no expense. By our standards it was a gigantic leap, as we were able to add more than three vocal parts to a song without it hissing back at us like a nest of cobras dosed with crystal meth. That would also be the year we invested in a drum box we never learned how to program. It just seems so complicated. And the presets are so cool. Having said that, with a couple of guitars, some Cash Generator keyboards, one or two proper analogue synthesizers bought for knock down rates off grieving widows, and the true grit of somebody who does a sky dive from outer space with an unchecked charity shop parachute, we set about recording songs that incorporated things we were interested in. Things like Wendigos, meteorite showers, Penrhyn Quarry's amazing resemblance to a Steven Spielberg Close Encounter at night time, constellations, the horrors of line dancing, Billy Ray Cyrus in hell, and the old testament mountains near Bethesda, North Wales. Equally we were inspired by cats that purr like little motorbikes; jaw dropping South Wales beaches; frequent panoramic lift off on the top of Garth Mountain; secret singing sand dunes, foxglove bells ringing in the summer, the sight of the Ghost monks of Tintern Abbey kicking the ghost arse of Henry the Eighth, fizz faced euphoria on a summer day walk, Cannery Row, Travels With Charley, and Richard Brautigan.
We used any instrument or noise we could get our hands on, from ones too obvious to mention, to spoons, pots and pans and jaw's harps, face smacks and cuckoo clocks. No sound was out of bounds. Apart from thumb driven slap bass. Not only was that out of bounds, but we gave each other written permission to put the other to the sword if it was ever suggested, even in jest.
Our big break came when we signed to My Kung Fu records of Cardiff for a medium sized latte and what was in retrospect a rather modest slice of carrot cake. And you think Led Zeppelin's Atlantic deal was a game changer? We released out first album Uncanny Tales From the Everyday Undergrowth in the heady summer of 2005. It was a big moment for us and the culmination of a lot of work as our sound was getting ever more intricate. It featured the mighty elastic bass lines of Incredible String Band sorcerer's apprentice Michael Bailey as a freelance guest star. We met him while beachcombing in Penarth for giant squid. We didn't find any. Never do. But what the heck, we gained some fearsome bass action. His contribution was so good that we decided for him that he was joining the group. To this day when he tries to tell us that technically he never actually agreed to joining us, we simply tune him out and let him talk himself out. It's worked for 7 years and counting.
Then came plucky Paul Jones, a fresh faced Welsh valleys dreamer with several strings to his bow. He clambered aboard the good ship Soft Hearted Scientists and soon graduated from innocent cabin boy to full, sun grizzled, grog swilling, foul mouthed, tattoo covered crew member. I think I've gone as far as I can with that weak analogy.
Anyway, the Soft Hearted Scientists now numbered four and we knew we could take on the world. Or at least Wales. Or at least bits of Wales. Preferably in close proximity to Cardiff. A stone's throw from my house even better. Actually can we just do gigs in my garden?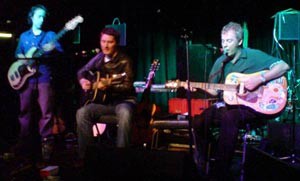 Then followed the albums Take Time to Wonder in a Whirling World (2007), the home recordings compilation Scarecrow Smile (2009), and Wandermoon (2011), on which we broke the 10 minute barrier for the first time. About bloody time. We want to break the 15 minute barrier next. Then the 20 minute barrier. Within four years we hope to create a 160 minute one song quadruple album (with special multi layered gatefold sleeve which can be converted into a modest 2 bedroom log cabin with central heating and plasma screen TV), which, when played backwards, ends war, hunger and Strictly Come Dancing, and cures exaggerated TV Geordie accents.
False Lights (2013) was our 5th album and featured mushroom clouds; the Chinese army on horseback; Seaside Sid, who plays a dangerous game and comes to a nasty end; evictions; tabloid demonisation of single mothers; Holy Pavlovian Incendiary Idiots; Range Rover Rage; time travel; Nazis; Nagasaki; Newton's Ghost; Hanging Judges; Skulls beneath the skin; and Deadly Secrets. It was a darker album and reflected the time in which it was created more than its predecessors. But that's not to say we completely lost our innocence. Heaven forbid.
The Slow Cyclone (2014) is our 6th album, and is an ambitious 24 track song cycle divided into 4 separate parts of 6 tracks each. There are full songs, instrumentals and odd little interludes. Little ambient mistakes, count ins, cat miaows, bird song, coughs and inconvenient knocks at the front door during recording have deliberately been left in to enhance the atmosphere of the record and let real life bleed into it.
Welcome to our world.
---