---
---
---
See the Scientists live!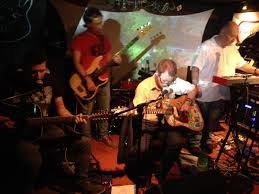 Saturday July 23rd Folk on the Lawn Festival, Tintern Abbey
Saturday August 6th, 14th Dream of Dr Sardonicus Psychedelic Festival, Cardigan, Wales. Buy tickets
Says Nathan about a recent rehearsal:
"We went through various oldies (well, 'Slow Cyclone' songs from 2014 are hardly oldies but a couple of 'Uncanny Tales' tracks certainly are) but also worked hard on 3 new songs for the upcoming shows. 'lant Your Flag,' 'Effigies' and 'Flowers' were all showing real promise.
"'Plant Your Flag' is Gregorian Chant fast psych pop with a twangy riff I cannot believe I haven't stolen; 'Effigies' refers to cop killer Dale Cregan, Ice Road Truckers and the Horsemeat scandal to a Forever Changes mariachi tune; and 'Flowers' is like a secular hymn that "prays" for the resurrection of innocents murdered by psychopathic regimes while simultaneously consigning said regimes to utter annhilation."
---
---